Inflatable spas provide a convenient and affordable way to enjoy your own relaxing spa retreat at home. However, what if you want a narrower, form-fitting 2 person inflatable hot tub?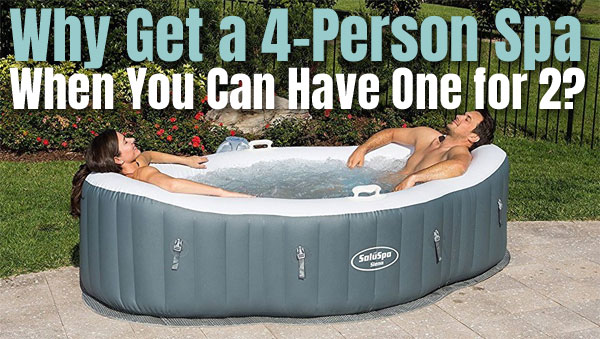 Well, you'll want to check out the Saluspa Siena AirJet.
Just like other inflatable tubs, you can enjoy fast and easy set-up, low maintenance operation and an affordable price tag. Unlike typical 4-person spas, though, this 2 seater provides some additional benefits.

Note: if the SaluSpa Siena is out of stock, check out these 3 cheap inflatable hot tubs under $500. Although they don't have the elongated shape, they offer a compact size and more energy-efficient heating due to holding less water.
6 Advantages of the 2 Person Inflatable Spa:
1. It Saves You Money… and Water
First of all, the tub requires about 35% less water to fill. Therefore, it takes less energy and costs less to heat. Of course, you also save water.
Saluspa Siena 2 Person Spa
2. it has a More Comfortable Design
Second, the narrower design creates comfortable arm rests at each end of the spa. This cozy fit has a more relaxing feel and lets you enjoy more of the jets directly.
3. Get a Free Spa Tray!
Third, this inflatable spa comes with a detachable table that lays across the center of the tub. You can use it to hold food, drinks, music, reading, etc… Now, you don't have to buy additional cup holders, and you can easily multi-task while you are tubbing.

4. It Fits Better in Smaller Spaces
Fourth, the rectangular shape of this jacuzzi enable it to fit on smaller patios or decks where space is limited. Since larger square-shaped models are significantly wider, they don't always fit where you want them. Plus, this 2 seater weighs much less than larger models when filled with water. Therefore, most decks are better able to support it.
5. Great for 1 Person
Fifth, the Saluspa Siena makes the perfect 1 person hot tub. The curvature of the walls combined with the extra length let you stretch out while still feeling ergonomically supported. Not to mention, cozy.
6. 2 Safety Side Handles
Sixth, this spa actually has 2 side handles. (I wish more hot tubs included these.) This feature makes it easier to enter and exit the tub safely. Even if you don't think you need handles, you will really appreciate having some after relaxing in a bubble massage for an hour. =)
How to Set Up a 2 Person Inflatable Hot Tub:
Many people are surprised at how easy it is to assemble an inflatable spa. You simply inflate the tub using the included spa pump. Then, turn on the heat and install a filter cartridge.
By the way, if you prefer having additional guidance, you'll be happy to know that this package includes a handy DVD instruction guide (for both set up and care!)
Once you have set up and filled your Saluspa Siena, the hot tub requires minimal maintenance. The heating and filtration work in conjunction with each other. Plus, the automatic start and stop timer saves energy.

The inflated walls are constructed of a thick and durable reinforced TriTech material. This helps insulate the spa along with the insulating cover and base pad. Spend less time and money heating the water and have your spa ready when you are!
Saluspa Siena AirJet Specs:
Dimensions: 8.2 feet long x 4.9 feet wide x 2.2 feet high
Empty Tub Weight: 79 lbs
Filled Tub Weight: 1,205 lbs
Water capacity (80%): 134 gallons
Maximum Heat: 104 degrees F (40 degrees C)
Heating Speed: 3-4 Degrees F per hour (faster than other larger models)
Heat Pump Features Integrated Water Filtration System
Jets: 120 Bubble Jets
Material: TriTech (polyester mesh with laminated PVC)
Model #: 54157E
Keep in mind that portable blow-up tubs can easily move from location to location (without water of course). You can also use them indoors or outdoors. This means that you can jacuzzi more often and get more value from your investment.
Not to mention, these spas offer free shipping. You will be saving money all over the place!
Siena AirJet Package Includes:
Tub Liner
Tub Cover (well-insulated and snaps down to sides of spa)
Spa Pump (with convenient digital controls)
Chemical Floater
Pressure Gauge
2 Filter Cartridges
Removable Beverage Table (with cup holder slots)
Air Pad Protector
Repair Kit
AirJet System (provides soothing massage without having to hire a masseuse!)
Bestway Inflatables and Materials Corp manufactures Saluspa products, and they offer support as well as spare parts. You can also download the Saluspa User Guide/Manual here.