Do you like the low price and portability of an inflatable spa – but want something with a little more style? The Helsinki faux wood inflatable hot tub looks more like a traditional spa with vertical panelling. However, it still offers the advantages of an inflatable.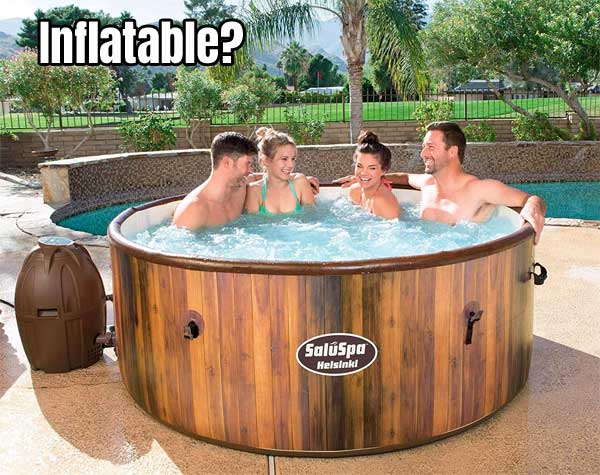 Strong & Sturdy Spa Walls:
In addition to style, the sides of this tub are structurally solid. In other words, the drop stitch material gives this inflatable a surprisingly rigid feel. Not to mention, the sturdy, durable construction helps increase the lifetime of the spa.

Just like other bubble spas, you get lots of air jets that deliver a relaxing massage experience. Plus, the pump also heats and filters the water at the same time.
You can also find out more about blow up hot tubs to helps you decide whether or not they're worth buying for you.
Save Money on Spa Heating Costs:
Speaking of heat, this wood panel inflatable spa has a few attributes that help keep the water warmer with less heating costs.
First of all, the hot tub includes a cushioned air pad floor to help insulate from the bottom.
Second, the package comes with a fitted spa cover to prevent heat loss from the top. For example, it has an aluminum foil coating that helps maintain a warm water temperature.
Note: The Helsinki has a newer feature called "Freeze Shield" built into the control panel that most inflatable spas don't have.

These winterizing sensors prevent freezing and part damage due to cold outside temperature by automatically increasing water circulation. You don't have to lift a finger. =)
Faux Wood Inflatable Hot Tub Specs:
Dimensions: 70.9″ Diameter x 26″ Tall
Empty Weight: 85 lbs
Capacity: Fits Up to 6 People
83 Air Jets
Model #: 54190E
Brand: SaluSpa/

Bestway

Phone: 1-855-838-3888

A Spa that Runs Itself?
Overall, the faux wood inflatable hot tub is really easy to set up and operate. For instance, the digital control panel handles all functions for you: heating, filtration and inflation.
Check out the video below that demonstrates the sturdiness, bubble features and easy operation. (Plus, don't miss the spa inflating while the guy drinks coffee. You'll laugh!)
This easy-run system makes your backyard spa even more relaxing that you originally thought, right? I mean, this spa requires minimal manual maintenance after set up outside of changing filters and changing out the water occasionally.
The Helsinki was designed for you to be able to come home at the end of the day, turn on the bubble jets, lean back and relax. Keep it consistently heated so that you don't have to wait for it to heat up each time you use it.

If you have trees or tall plants in your yard, you can situate your spa among them for a more tropical vacation-like retreat. You could even create your own mini oasis by using potted palms.
On the other hand, this natural-looking tub fits in perfectly on the deck of a mountainside cabin. =)
Note: This spa is actually on sale now for under $500 (including shipping!). Compare that to a traditional round cedar hot tub for almost $4,000 without the insulation or the mobility.
Helsinki Inflatable Spa Package Includes:
Spa (with easy-lift side handles)
Filtration and Heating Pump
Top Cover with Safety Clips
Spa Liner
Chemconnect Dispenser
Filter Cartridge (VI)
Repair Kit