Do you want a convenient, affordable way to relax at the end of each day? The Intex Pure Spa Plus not only offers therapeutic effects with its 100+ bubble jets. It also gives you a resort-like getaway in your own backyard.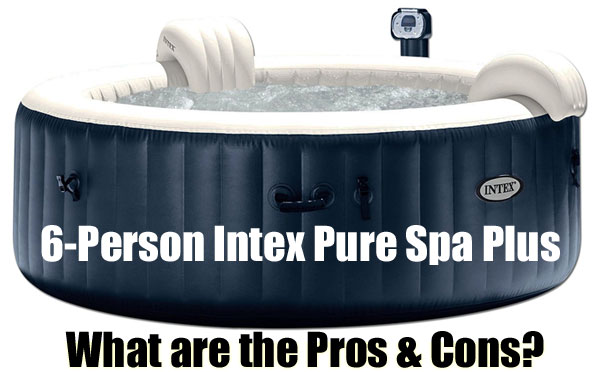 Intex Pure Spa Pros:
1. Intex Makes High Quality Tubs
Intex is known for making high-quality inflatable furniture, as well as durable outdoor inflatables including spas and pools. I've owned several Intex products over the years with no complaints, and my two favorite brands for inflatable spas are Intex and Coleman. Oops! Did I say that out loud?
In my opinion, when I buy a recreational product, I want it to be worry-free. I don't want to have to deal with calling the company with the complaint or packing up the item to return, etc.. I just want to have fun. Therefore, quality and reliability are high on the list.
2. This Spa is Easy to Set Up and Use

Intex inflatable hot tubs are a piece of cake to use. Just plug it in to a standard electrical wall outlet, blow it up with the included pump and fill it with water.
Of course, you will need to turn the heat on through the control panel, change the filter and add basic spa cleaning chemicals, but that's about it. These are very easy to do, and the package includes everything you need to get started.
3. Inflatable Spas are Portable and Versatile
Because the Intex Pure Spa is inflatable, you can set it up virtually anywhere in your backyard. On top of that, you can move it if you decide to change locations. Some people even use their spas indoors during the wintertime.
Keep in mind that the spa gets heavy when filled with water, so make sure that if you place it on a deck, the structure can support the filled weight. Also, don't plan on moving it when it's full of water.
4. Spas Include Hard Water Treatment Systems
This is a nice convenience. Not all inflatable spas come with this feature. Intex give you a built-in hard water treatment system, which makes water gentler on skin, swimsuits and the entire spa system.
5. Inflatable = Affordable
Although Intex makes great inflatable hot tubs, they don't charge you an arm and a leg for them. The 6-person Pure Spa costs less than $500 and ships for free. Of course, you won't have to hire a contractor to install it either. We're saving money all over the place!
Here are more details:
Intex 6-Person PureSpa Plus
What Not to Like About the Pure Spa
1. You May Not Be Able to Use Your Spa Year-Round

Unlike in-ground and well-insulated hot tubs, inflatable spas typically can only be used in warmer climates. By that, I mean 40 degrees F or warmer. If the air temperature is much lower than that, it becomes more challenging and inefficient to heat the water.
If you live in a warmer climate or plan on moving your spa indoors during the wintertime, this may not matter to you. However, it's something good to know before you buy it.
All that said, the package comes with an insulated top cover and insulated ground cloth to make the unit more energy efficient.
2. The Hot Tub May Be Too Big
The outer diameter of this tub is 85″. That's over 7 feet. The smaller 4-person version measures 75″ in diameter, which is significantly smaller. Make sure you have enough space.
Also keep in mind that a larger spa contains more water, which will take more energy to heat. Bigger is not always better. If you want to save money and don't need a 6-person spa, it may be a better ideas to go with the smaller size.
3. The Spa has No Massage Jets
This model has 140 bubble jets. These can be soothing to the body and relaxing to the mind, but they are not as intense as massage jets.
Intex Pure Spa Plus Specs:
Spa Dimensions: 65″ Inner Diameter, 85″ Outer Diameter, 28″ High
Bubble Air Blower – 1.1 hp/110-120V
Spa Heater – 1,300W/110-120V
Flow Rate – 460 Gallon/Hour
Spa Temperature Range – 68-104 Degrees.