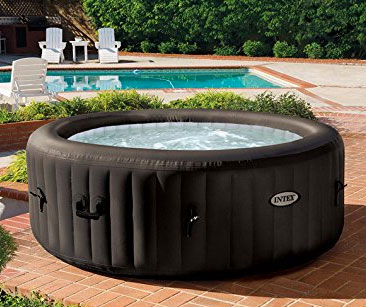 If you want a hot tub for more than just entertaining and relaxing – but also for hydrotherapy, consider the Intex PureSpa Jet Massage hot tub. It has 4 high-powered jets that provide hydrotherapy for sore, stiff and tired muscles.
Why Hydrotherapy?
Whether you need to relieve a tense neck and back after a stressful day at the office, or you want to soothe and massage your leg muscles after a long run, hydrotherapy can really help.
It's an easy way to relax and unwind in the comfort and convenience of your own home – every night if you need to. No need to schedule expensive massage sessions if you don't want to.

The warmth and moisture combined with the intense bursts of water and bubbles can help release tight muscles and help them stretch out.
If you run, workout on a regular basis, lift heavy weights or simply have a demanding and busy job, these stressors can have a significant impact on your body over time.
One day, you may wake up with symptoms like pain in your lower back, a stiff neck that doesn't have full range of movement or you find it challenging to get out of bed in the morning. Many times, the key is to not let the stress build up, and these common yet chronic pains can be avoided.
Why Relaxation is Key to Maintaining Health…
Although easier said than done, it's important to take time out and do activities that you enjoy that help you relax, practice stretching or start a daily meditate routine. Hydrotherapy is of course another option, and lots of people like it because it feels so good and doesn't require any effort.
Plus, when you have a spa in your home or on your patio, it's easy to make a habit of relaxing in it right before bed or stretching out in it first thing in the morning. You don't have to wait for a once-a-month massage. You can a mini-retreat everyday if you want.
The best way to make a new habit stick is to make the task [1] easy [2] convenient and [3] fun. Spa therapy falls into this category, which is why so many people who buy hot tubs continue to use and enjoy them year after year.
3 Cool Things About the Intex Inflatable Hot Tub:
Just like other Intex inflatable spas, the Jet Massage model includes an insulated cover to help lower heating costs. It also features a very efficient heating system, as far as blow-up tubs are concerned.
The Jet Massage also comes with a hard water treatment system. Depending on the water you get from your city, you might notice this difference right away.

If you are used to using "hard" water, you'll find soft water more soothing and relaxing to your skin. (In fact, some people get water softeners for their shower heads because it makes such a difference when washing their hair.)

In addition, this model includes a saltwater sanitation combo system. This means that you don't have to add a bunch of harsh chemicals to your spa water, which can irritate sensitive skin or aggravate allergies in some people.

Click here for the Intex JetMassage Spa
All of the filtration and water treatment systems mentioned above are built-in the spa when you get it. It's simple, push-button technology make maintenance and caring for your tub a breeze, which in turn will help it last longer with fewer problems and less expense.
Here are the Intex PureSpa Specs:
Dimensions: 75″ diameter, 28″ tall
Seats up to 4 adults
210 gallon water capacity
Temperature heats up to 104 degrees
What I Don't Like So Much:
I personally think hydrotherapy feature makes a great indoor tub, especially in the winter. However, this is only one color option and one shape option.
Unless you have a black or dark colored bathroom, this tub may look a little awkward. It's also not as easy to set up snugly against a wall.
There are also no raised seats in this spa. You just sit on the floor of the spa. This aspect doesn't bother most customers, but if you want an actual seat, you would need to buy one separately.
By the way, customers can download free product manuals for the Intex 77″ spa on this page if needed.