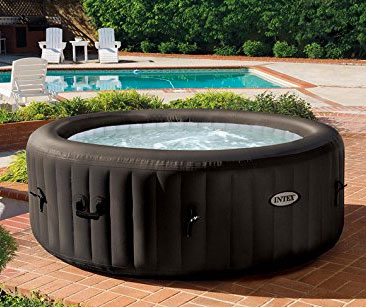 Question: Do Inflatable Hot Tubs Have Seats?
Answer: Inflatable spas typically don't include seats. Most models include some sort of cushioned bottom on which to sit, which is perfectly comfortable.
However, you don't get the molded seats that other portable spas have.
Don't Be Afraid of Hot Tubs Having No Seats
The height of the hot tub walls are designed for floor seating for adults, so no seat is needed (though seats are useful if you have small children – see below). A nice advantage to not having built-in seating is that you can fit more people into your spa. You can sit wherever you want without having to sit according to some pre-set configuration.
I understand why manufacturers designed the tubs this way. With a simpler structure, there is less that can go wrong (inflatables, you know). Inflatable spas end up lasting longer and requiring less maintenance due to their sturdier frame.
Where to Get Hot Tub Seats
You can get some pretty cool seats though, sold separately of course. The advantage to having moveable seats is that, well, they can be moved. You can also use them in other locations, such as a bathtub or pool. And you get to choose the number and style that you want.
Be warned, there are cheap versions out there that end up being more of a nuisance than a comfort. Read product reviews before you buy so you don't end up wasting money.
The Water Brick Spa Cushion is the most popular inflatable spa seat. In fact, people use them in portable spas as well as a "booster" seat.
They are comfortable, easy to use and clean and durable. You don't have to worry about them being affected by spa chemicals because they are PVC-coated.
The Water Bricks have an internal removable pouch that can be filled with pea gravel or marbles which weigh down the cushion so that it doesn't float to the top of the water when not in use. They measure 13″ wide x 11″ deep x 5″ tall.