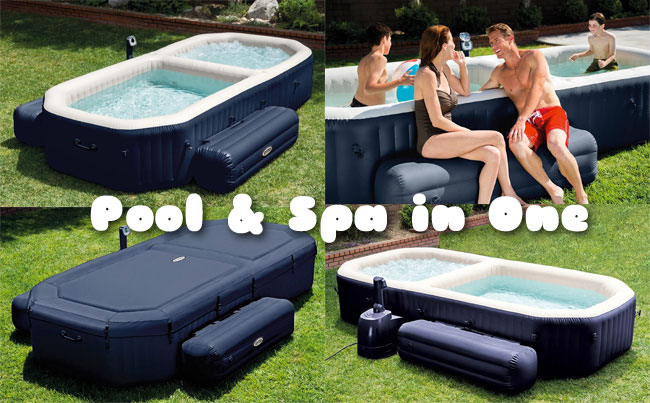 Why I Like this Tub and Pool Set-Up…
Now you can get an inflatable hot tub and pool in one convenient unit. It's portable, low-cost and easy to set up. It also takes up less space than a conventional swimming pool, so it's a great option if you have a small backyard or patio.
This Inflatable Pool/Spa is Very Strong. Here's How:
The Intex brand has a patented "Fiber Tech Construction" for their inflatable spa line, as well as this pool/spa unit. It makes the sides extremely rigid so that you can actually sit on them without having them sag down.
Compared to PVC beams used in other inflatable tubs, the Fiber Tech beam doesn't stretch. That is how you can inflate Intex spas and pools to have a very sturdy, firm structure that feels very stable.
Furthermore, the pool/tub has a 3-ply laminated puncture-resistant. Intex puts a lot of effort into making high quality products. It's designed to last years, even though it is full of air.
But the Structure is Also Soft…
On the other hand, the walls of the tub are still very comfortable and plush. This feature makes relaxing in the spa very luxurious. In addition, if you have kids running around the pool all day, you don't have to worry about them hitting their head against the side of the pool.
Purespa Bubble Spa with Pool Package Includes:
Inflatable Pool & Spa
Insulated Cover & Floor Mat (helps lower your heating costs)
Filter Pump
Hard Water System (easier on your skin, plus helps the pump system last longer)
Chemical Dispenser & Test Strips
Here's a Review of the Intex Hot Tub and Pool:
Info on 10 x 12 Hot Tub Gazebo
I love this gazebo idea. It adds ambiance, privacy and protects your pool and spa from the elements. In addition, it can help your spa retain heat and therefore save you money.
Combine this idea with the insulating cover and floor pad that come in the package. Then place the unit near a wall of your home, and can really conserve energy.
Pool & Spa Specs:
Weight: 255 lbs (empty)
Dimensions: 152″ long x 72″ wide
Water temperature ranges from 68-104 degrees
Water Capacity: 210 gallons (spa), 310 gallons (pool)
Heater: 1300 Watt, 110-120 Volt
Bubble Air Blower: 1.1HP, 110-120 Volt
Bubble Jets: 120 in spa, 150 in pool